Our award-winning hairstylist and makeup artist, Nikki Gauvreau and her team specializes in weddings here at Eyeful Beauty.  With over 8 years of experience in hair and makeup for weddings, photo shoots, runway shows and film, Nikki will work with you to find the perfect look for you and your wedding party.  Whether you are looking to enhance your natural features in an elegant and simple way, go bolder for a more dramatic or exotic look, or something in between, we will make you look and feel beautiful on your special day. 

To ensure that our brides have a smooth, stress free wedding day we recommend that you book a trial run for your hair and makeup 5 to 6 months before your wedding.  This will allow us to try out a few different styles until we find the perfect look for your wedding day.  Please bring in any hair pieces, jewelry, or veils that you are planning to wear so that we can incorporate them into your hairstyle during the trial.  We would prefer that you arrive to your makeup trial with a clean, lightly moisturized face.  Feel free to bring in any reference photos of hair and makeup that you like so that we can get a clear idea of what you are looking for.  In the case that you don't have anything in mind, we excel in suggesting flattering hairstyles and makeup to make you look and feel beautiful.  At the end of the trial, if you would like to book our services for your wedding day you would be asked to put down a 50% deposit of the total service. 
If you would like us to travel to your location on the day of your wedding, some additional fees will be applied.
​
The remainder of the payment will be due in full two weeks prior to your wedding date.  We want your wedding day to be as easy and relaxed as possible, and getting the payment before the big day helps to ease any of the stress.  This way we can focus on you and your wedding party.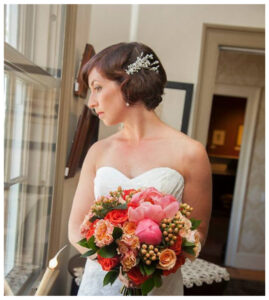 Bridal Party Hair
In Salon
$130
Bridal Party Hair
On Location
$170 & up
Bridal Party Makeup
In Salon
$130
Bridal Party Makeup
On Location
$170
Bride Hair On Location
$200
Bride Makeup In Salon
$160
Bride Makeup On Location
$200
Flower Girl Hair In Salon
$50
Flower Girl Hair On Location
$65
Flower Girl Makeup In salon
$55
Flower Girl Makeup On Location
$65
Groomsman Party
$10 per party member
The stylist will do a quick approval of each party member including the groom. Please ask about our barber rates if a more detailed cut, style, blow out or shave is needed